PRETTI MUCH EVERYTHING SALES
PRETTI MUCH EVERYTHING SALES
PRETTI MUCH EVERYTHING SALES
Contact Information
(202) 285 8852
Capitol Heights, Maryland
andrea@prettimucheverything.com
About Pretti Much Everything
Pretti Much Everything Sales was founded by Andrea Edwards out of her passion to sell things and bargain shopping. It eventually turned into a company that hosts estate sales that help customers go through tough times in life like the three D's: downsizing, divorce, or death. Years of experience organizing estate sales have provided us with a wide network of connections from professional appraisers to shop owners in various locations to a lot of families whose lives were made easier because of our services.
Because of the pandemic, we no longer do physical sales but we've focused our energy and expertise in offering online sales and providing customers our specialized shopping services. Whether you want to complete a collection but you're missing one rare item or you want to sell all your used household items to declutter, we can sell and find things for your happiness and convenience.
Our Mission and Vision
We make it our mission to sell the items you don't need and find the items that you need for the next chapter of your life. The aim is to make your transition as easy and as convenient as possible. We undertake the hard work and intensive labor, so you don't have to. Our vision is to add happiness and satisfaction in your life even during your toughest times.
Our Promise
We pride ourselves in conducting business based on our unyielding family values of integrity, compassion, hard work, and dedication. Whether we are selling your stuff or finding your items, we ensure that you will get the best value. With our unbridled dedication, unparalleled research skills, large networks of connections, and expertise in the industry, we will always make sure to sell or find pretty much everything for you.
Founder, Pretti Much Everything
Online Estate Sales
We sell the items you no longer need in life
We understand how difficult it is to part from your items. Some can have sentimental value while others have been with you for years. Letting go is never easy but we can make it convenient. Let us host an online estate sale for your unneeded items through all the major estate sale websites we use. Your items get more exposure so they can easily find a new home, while you earn some profit.
Our Online sales service may include:
Sorting of items
Research
Appraising
Set up and presentation
Labels and photographs
Advertisement and online marketing
Hosting of online estate sale
Our comprehensive online estate sale hosting service can help you declutter, downsize or move on from the past. Contact us to get a free quote.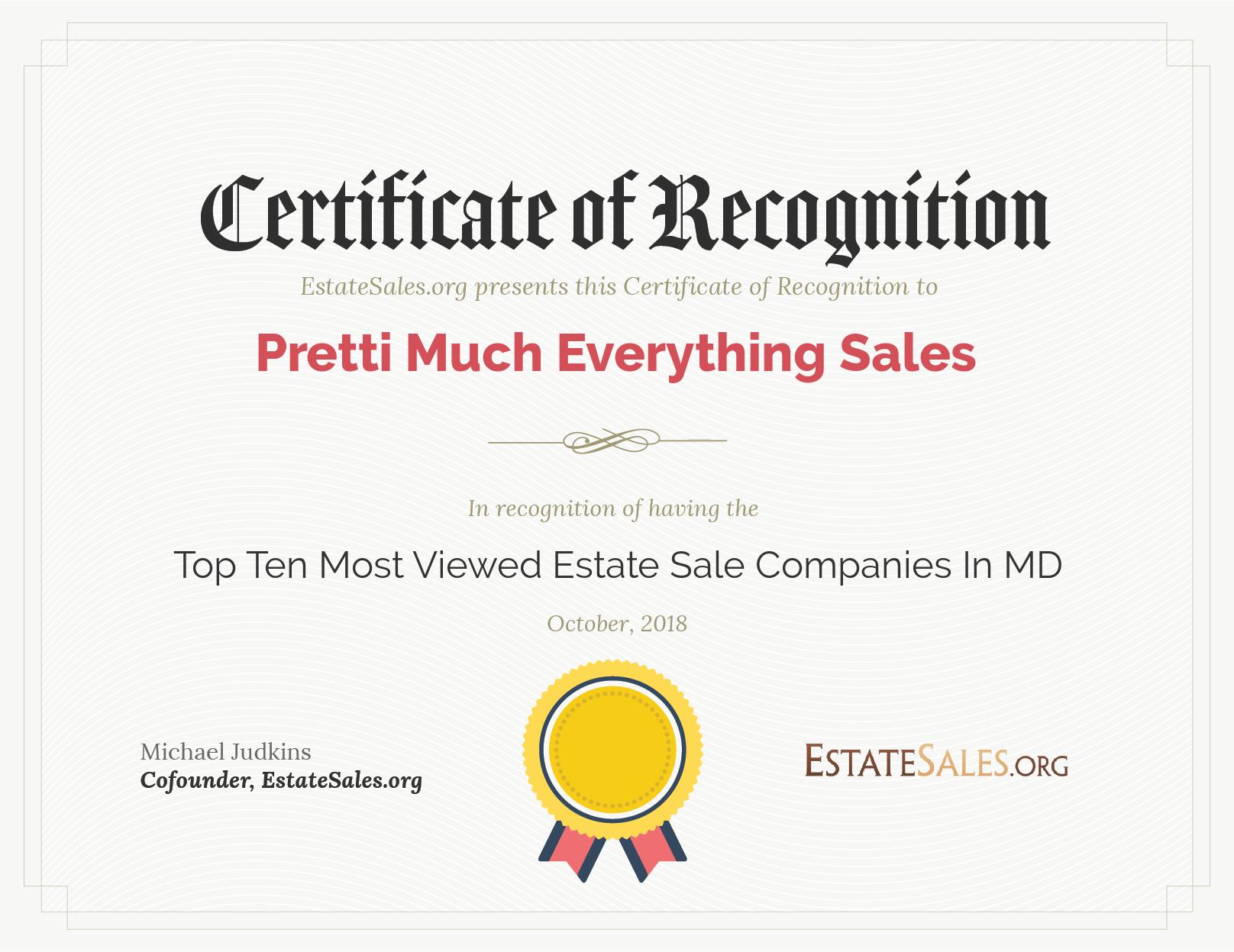 Specialized Shopping Service
We find the items you absolutely have to have
From rare collectibles to hard-to-find household things to limited edition finds to everyday craft or hobby items, we will scour the online and physical stores to find that item that you need. Our years of experience in bargain shopping give us an edge in spotting rare finds and negotiating to get great prices. We know all the right places to look and all the right people who can help. Whether brand new or used items, we can find it especially for you at a great value for your money.
Our specialized shopping service may include:
Extensive online research
Searching through telephone, mail, and word-of-mouth
Utilization of our wide network of shop owners, collectors, exert appraisers, and traders
Price negotiation
Shipping and delivery of items of any size
Learn more about our specialized shopping service by contacting us or by leaving your contact details. We will get back to you and we can discuss about the items you need us to find.
GET IN TOUCH! (202)285-8852